There's something about white cheddar cheese that just makes it so special. Maybe it's the fact that it's not as common as other types of cheese, or maybe it's because it has a slightly sweeter flavor than other cheddars. Whatever the reason, we can all agree that white cheddar is delicious.

And what better way to enjoy it than in a recipe? Here are some of our favorite white cheddar cheese recipes for you to try at home.
Easy White Cheddar Mac and cheese Recipe
Do you love the taste of white cheddar cheese? Then you'll love these recipes that feature this delicious ingredient! From savory dishes to sweet treats, there's something for everyone to enjoy.

For a savory option, try this White Cheddar and Bacon Grilled Cheese Sandwich. The sharp flavor of the cheese pairs perfectly with the salty bacon, and the whole sandwich is grilled to perfection. Yum!

If you're looking for something on the sweeter side, these White Cheddar Chocolate Chip Cookies are a must-try. The combination of rich chocolate and sharp cheddar is surprisingly delicious – give them a go!
Finally, if you want a tasty snack that's sure to please, try these White Cheddar Popcorn Balls. They're perfect for munching on any time of day. Delicious and easy to make, they'll be gone before you know it!
White Cheddar Mac N Cheese Recipe
Ingredients:
1 lb. elbow macaroni
2 tbsp. butter
2 tbsp. all-purpose flour
1 tsp. salt
1/4 tsp. ground mustard Dash of cayenne pepper (optional)
2 cups milk, heated until steaming hot but not boiling
1 1/2 cups shredded white cheddar cheese (6 oz.)*
Directions:

Cook the macaroni in a large pot of boiling water according to package directions; drain well. Meanwhile, melt the butter in a medium saucepan over low heat. Stir in the flour, salt, mustard and cayenne until smooth; cook for 1 minute without browning.

Gradually whisk in the milk until no lumps remain; cook over medium-low heat, stirring constantly, until mixture comes to a simmer and thickens slightly, about 8 minutes. Remove from heat and stir in the cheese until melted.*
Return to low heat if necessary to keep mixture warm and creamy while you finish cooking the pasta. Drain the pasta well and add it to the saucepan with the cheese sauce; toss to coat evenly.
What to Add to White Cheddar Mac And Cheese
When it comes to mac and cheese, there are a lot of different ways that you can make it. You can add different types of cheese, mix in some vegetables, or even change up the pasta. But one thing that always seems to be a classic is white cheddar mac and cheese.

There are a few different ways that you can make white cheddar mac and cheese, but one of the best ways is to add in some extra ingredients to give it some more flavor. Here are a few things that you can add to your white cheddar mac and cheese:
-Bacon: One of the best things about bacon is that it goes with everything. And when you add it to mac and cheese, it just takes things to the next level. The salty and smoky flavors of bacon go so well with the cheesy goodness of mac and cheese. Just make sure not to overdo it on the bacon or else it will be too greasy.

-Jalapeños: If you like your food with a little bit of a kick, then adding some jalapeños to your mac and cheese is a great way to do it. The heat from the jalapeños will balance out the creaminess of the cheese perfectly. Just be careful not to add too many or else your mouth will be on fire!

-Crab meat: Crab meat is another great addition to mac and cheese because it gives it a nice seafood flavor without being overwhelming. It also adds some nice texture contrast with its firmness against the softness of the noodles and cheeses. Plus, who doesn't love crab meat? It's definitely a winner in our book!
White Cheddar Mac And Cheese Baked
What could be more comforting than a big bowl of mac and cheese? This White Cheddar Mac and Cheese is baked to perfection with a golden, crispy top. It's made with a blend of cheddar cheeses, milk, and just the right amount of spices for flavor.

The pasta is cooked al dente so it holds up well to the cheesy sauce. This dish is sure to please everyone at your next family gathering or potluck. This White Cheddar Mac and Cheese recipe is easy to follow and can be on the table in about an hour.

You'll start by boiling the pasta in salted water according to package directions. While the pasta is cooking, you'll melt butter in a saucepan over medium heat. Once melted, add flour and whisk until smooth.

Then slowly add milk while whisking continually until mixture thickens. Add salt, pepper, mustard powder, and cayenne pepper, then remove from heat. Now it's time to assemble everything!

Drain the cooked pasta and mix it with the cheese sauce until well coated. Pour into a baking dish and top with shredded cheddar cheese. Bake for 20-25 minutes or until bubbly and golden brown on top.

Serve hot topped with chopped green onions if desired. Enjoy!
Creamy White Cheddar Mac And Cheese Recipe
Creamy White Cheddar Mac And Cheese Recipe
Ingredients:
1 lb. elbow macaroni
2 Tbsp. butter
2 Tbsp. all-purpose flour
1 tsp. dry mustard powder
1/2 tsp. salt
1/4 tsp. cayenne pepper, or to taste 3 cups whole milk,
divided 8 oz. white cheddar cheese, shredded (about 2 cups)
1/4 cup grated Parmesan cheese
Instructions:
1. Preheat oven to 375 degrees F (190 degrees C). Butter a 9×13 inch baking dish and set aside.
2. Cook macaroni in boiling water for 6 minutes, or until al dente; drain and set aside.
3. Melt butter in a saucepan over medium heat; whisk in flour, dry mustard powder, salt, and cayenne pepper until smooth and bubbly. Gradually whisk in 3/4 cup of milk until mixture is thickened and smooth; slowly whisk in remaining milk until mixture is once again thickened and smooth (this should take about 5 minutes).
Stir in cheddar cheese and Parmesan cheese until melted and smooth; remove from heat when mixture is creamy and bubbly (do not let it boil).
4."Toss cooked macaroni with the sauce until evenly coated" then pour into prepared baking dish". Sprinkle additional shredded cheddar cheese over the top" if desired". Bake for 20 to 25 minutes" or until heated through" cheesy" and bubbly".
Best White Cheddar Mac And Cheese Recipe
Hey there! In this blog post, we'll be discussing the best white cheddar mac and cheese recipe that we could find. This dish is perfect for any occasion, whether you're looking for a quick weeknight meal or want to impress your guests at a dinner party.

We'll go over the ingredients and steps needed to make this delicious dish, as well as provide some tips on how to ensure it comes out perfectly every time. So without further ado, let's get started!
Ingredients:
-1 pound elbow macaroni
-1/4 cup unsalted butter
-1/4 cup all-purpose flour
-3 cups whole milk
-2 teaspoons dry mustard powder
-1 teaspoon garlic powder
-Salt and pepper,
to taste -8 ounces shredded white cheddar cheese (about 2 cups)
– we recommend using a sharp variety for the best flavor Instructions:

1. Preheat oven to 375 degrees F (190 degrees C). Butter or spray a 9×13 inch baking dish.
2. Cook macaroni in boiling water until just tender; drain.

3. Melt butter in a saucepan over medium heat; whisk in flour until smooth. Gradually whisk in milk until mixture thickens and boils;
remove from heat and stir in mustard powder, garlic powder, salt, pepper, and 6 ounces of cheese until melted and smooth.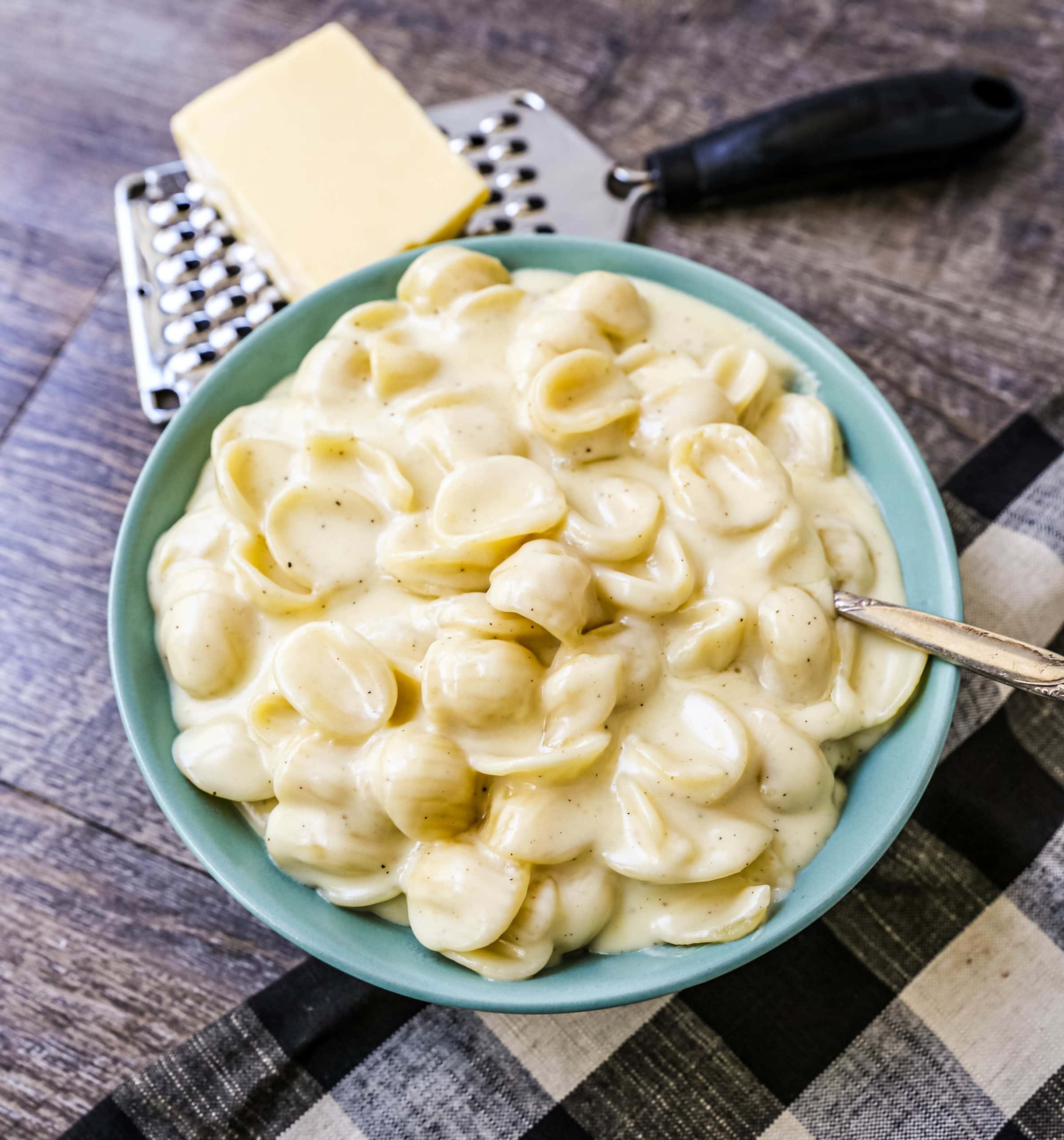 Credit: www.modernhoney.com
What is White Cheddar Cheese Good For?
Cheddar cheese is a hard, yellowish-white, natural cheese. It is named after the English village of Cheddar in Somerset. Cheese lovers around the world enjoy its sharp taste and creamy texture.

White cheddar cheese is lower in fat than other types of cheddar cheese because it has less coloring agent. White cheddar still contains all of the same calcium and protein as other types of cheddar. One benefit of white cheddar over yellow cheddar is that it does not contain any artificial food coloring agents.
What is the Difference between White Cheese And Cheddar Cheese?
White cheese and cheddar cheese differ in their manufacturing process, taste, and texture. White cheese is made by combining milk and cream, then curdling it with rennet or an acid like vinegar or lemon juice. The curds are then strained and pressed to remove whey, the liquid left behind after the solids (curds) have been separated.

Depending on the recipe, salt may be added at this stage. Finally, the cheese is aged for a short period of time before being sold. White cheese has a milder flavor than cheddar and is often used in dips, spreads, and sauces.

Cheddar cheese is also made from milk and cream, but uses only milk instead of a combination of milk and cream. Curdling occurs as with white cheese, but cheddar requires the addition of microbial enzymes in addition to rennet or an acid.
After straining and pressing to remove whey, cheddar cheeses are typically placed in a brine solution (water + salt) which helps give cheddar its characteristic sharp flavor.

Aged cheddars can be quite crumbly due to their high fat content; however, younger versions are more smooth in texture.
What Can I Do With Too Much Cheddar Cheese?
If you find yourself with an excess of cheddar cheese, there are a number of ways to put it to good use. One option is to make cheesy dishes like macaroni and cheese, nachos, or quesadillas. Another idea is to use cheddar as a topping for salads, soups, or baked potatoes.

You can also get creative and use cheddar in recipes for things like grilled cheese sandwiches, cheesecake, or savory omelets. Of course, you can always just eat cheddar cheese on its own as a snack.
Cheddar pairs well with crackers, fruit, and nuts, and can also be used in place of other types of cheese in recipes. So if you have a lot of cheddar on hand, don't hesitate to get creative and put it to good use!
What Do You Eat With White Cheese?
There are many different types of white cheese, and each one pairs well with different foods. For a strong cheese like Parmesan, try pairing it with a sweet fruit like figs or apricots. A milder white cheese goes great with crisp vegetables like celery or radishes.

And for a rich and creamy cheese, pair it with crusty bread or nuts. No matter what type of white cheese you're eating, there's sure to be a perfect food to accompany it!
Conclusion
Looking for some delicious white cheddar cheese recipes? You've come to the right place! Here, we've gathered some of our favorite recipes that feature this tasty cheese.

From appetizers to main dishes to desserts, there's something here for everyone. So what are you waiting for? Get cooking!