Paula deen's corn casserole recipe is a popular southern dish that combines kernel corn, cream-style corn, jiffy cornbread mix, sour cream, and butter for a rich and tasty side dish. This easy-to-make casserole is perfect for potlucks and holiday gatherings.
Corn casserole is a classic southern comfort food that has been a staple in many homes for generations. This dish is simple to make yet packs a flavor punch that everyone loves. If you're looking for a crowd-pleasing side dish, then paula deen's corn casserole recipe is the perfect choice. The combination of jiffy cornbread mix, cream-style corn, and sour cream gives the casserole a moist and creamy texture while the butter adds a richness that makes it irresistible. This recipe is perfect for a family dinner, potluck, or holiday gathering, and it's sure to become a favorite in your household.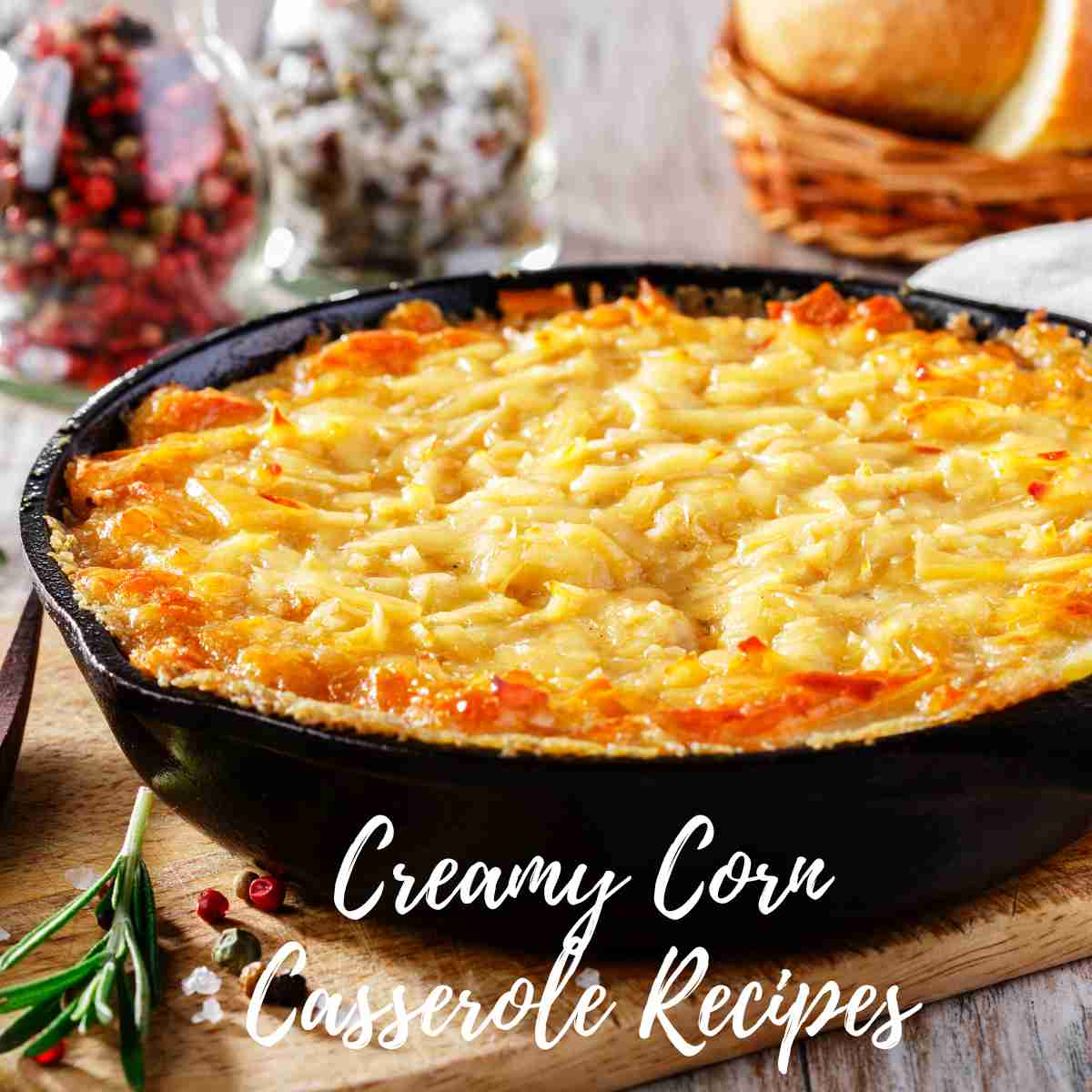 Credit: www.foodei.com
Paula Deen Corn Casserole Ingredients
Corn casserole is a southern classic that is a must-have side dish during holiday gatherings, family dinners, and potluck parties. Paula deen's corn casserole recipe is a perfect blend of creamy and sweet flavors that everyone will love.
2 Cans Of Corn
These cans should be drained and unsweetened to prevent the dish from becoming too sweet.
You can use fresh corn kernels as a substitute if you prefer.
1 Box Of Jiffy Corn Muffin Mix
Jiffy is the go-to brand for corn muffin mix, and it ensures that the casserole has the perfect consistency.
You can use any brand of corn muffin mix if you don't have jiffy on hand.
1 Stick Of Butter
Butter adds richness and flavor to the dish.
You can use unsalted or salted butter depending on your preference.
1 Cup Of Sour Cream
Sour cream gives the dish a tangy flavor that balances the sweetness of the corn and corn muffin mix.
You can use plain greek yogurt as a substitute if you prefer.
1 Can Of Creamed Corn
Creamed corn adds creaminess and texture to the dish.
Choose a brand with a smooth consistency to avoid any lumps in the casserole.
2 Eggs
Eggs are essential for binding the casserole and making it fluffy.
You can use vegan alternatives such as flax or chia seed eggs for a plant-based recipe.
Adding Additional Flavor
You can add some jalapenos, bacon bits, onions, or any other ingredient to enhance the flavor of the dish.
Simply mix in your desired ingredients before baking the casserole.
Preparing The Corn Casserole
Corn casserole is an all-time favorite southern dish that is both comforting and delicious. It's often served as a side dish during family gatherings or holiday feasts. If you're looking for an easy and tasty recipe for this beloved dish, paula deen's corn casserole is the perfect choice.
Step-By-Step Instructions For Mixing Ingredients
To make paula deen's corn casserole, you'll only need a few simple ingredients that are easy to find in your local grocery store.
Preheat the oven to 350°f.
In a large mixing bowl, combine the corn muffin mix, creamed corn, whole corn kernels, sour cream, and melted butter.
Mix all the ingredients together until combined.
Season the mixture with salt and pepper as per your taste.
Once everything is mixed together, transfer it to a greased 9×13 inch casserole dish.
Tips For Properly Greasing The Casserole Dish
Properly greasing the casserole dish is crucial to ensure that the corn casserole doesn't stick to the dish.
Use butter or cooking spray to grease the casserole dish instead of oil.
Ensure that the casserole dish is well-greased on the bottom and sides.
Use a pastry brush or a paper towel to ensure that the grease is evenly spread.
Don't forget to grease the corners and the edges of the dish.
Oven Settings And Baking Time
After mixing the ingredients and greasing the casserole dish, the next step is baking it in the oven.
Preheat the oven to 350°f.
Once the oven is preheated, place the casserole dish in the oven and bake it for approximately 45 minutes.
Check the corn casserole at the 40-minute mark to see if it's ready. You can do this by inserting a toothpick in the center of the casserole. If it comes out clean, the casserole is ready.
Checking For Doneness
Now that the baking time is up, it's important to ensure that the corn casserole is properly cooked.
Insert a toothpick in the center of the casserole, and if it comes out clean, the casserole is ready.
If the toothpick comes out slightly wet, bake it for another 5 minutes or until it's completely cooked.
If the casserole is browning too quickly on the top, cover it loosely with foil and continue to bake until done.
By following these simple steps, you'll end up with a delicious, creamy, and hearty corn casserole that will be an instant hit with your family and guests. Enjoy!
Variations And Modifications
Paula deen's corn casserole is a classic dish that is easy to make and enjoyable to share with family and friends. The best thing about this dish is that it has endless variations and modifications.
Suggestions For Alternative Ingredients Or Substitutions (E.G. Vegan Options)
You can swap the canned creamed corn with frozen creamed corn.
For a vegan option, use almond milk or soy milk instead of whole milk and vegan butter instead of regular butter.
You can also use gluten-free flour or cornmeal for those who are sensitive to gluten.
Adding Different Toppings Or Mix-Ins
Adding 1 cup of cooked and crumbled bacon will give the dish a savory taste.
You can add shredded cheddar cheese on top to give the dish an extra crunchy and cheesy texture.
Another option is to add chopped jalapeños to give the dish some heat.
Adjusting Heat Level To Taste
If you want the dish to be spicier, add more jalapeños or cayenne pepper.
To tone down the heat, omit jalapeños or reduce the amount of cayenne pepper used.
Making A Smaller Or Larger Batch
To make a smaller batch, simply cut the ingredients in half.
To make a larger batch, double or triple the measurements of the ingredients accordingly.
Overall, paula deen's corn casserole is a versatile dish that can be customized to suit different dietary requirements and taste preferences. By using different ingredients or altering the heat levels, it can be transformed into an entirely new dish that everyone can enjoy.
So whether you're hosting a dinner party, a potluck or simply cooking for your family, feel free to experiment with different variations and modifications to make this dish a unique and enjoyable experience every time.
Serving And Storing Paula Deen Corn Casserole
Paula deen corn casserole is a classic american dish that is perfect for serving on any occasion. Whether you are having a family dinner, a potluck party, or simply craving comfort food, this delicious corn casserole is sure to be a hit.
In this section, we will discuss some tips for presenting, pairing, storing, and reheating paula deen corn casserole.
Tips For Presenting The Dish For Various Occasions
For a family dinner, serve the corn casserole as a side dish to your main course.
For a potluck party, use a decorative dish to make it more presentable, and place it on a table with other dishes for guests to help themselves.
For a holiday meal, garnish the casserole with fresh herbs or chopped nuts to give it a festive touch.
For a casual bbq, serve the corn casserole in a paper cup or on a paper plate to make it easy to enjoy while mingling.
Recommendations For Pairing With Other Dishes
Paula deen corn casserole pairs well with roasted or grilled meats, such as chicken or beef.
It is also delicious when served alongside other classic comfort foods, like mashed potatoes or macaroni and cheese.
For a healthier option, pair the corn casserole with a green salad or steamed vegetables.
Proper Storage And Reheating Instructions
To store leftovers, let the corn casserole cool to room temperature and then transfer it to an airtight container. It can be stored in the refrigerator for up to 4 days.
To reheat, preheat the oven to 350 degrees fahrenheit. Place the casserole in an oven-safe dish and cover with foil. Bake for 15-20 minutes or until heated through.
Alternatively, you can reheat in the microwave by placing a single serving in a microwave-safe dish and heating for 1-2 minutes or until hot.
With these tips, you can confidently serve, pair, and store paula deen corn casserole for any occasion.
The History Of Corn Casserole
Corn casserole is a classic dish that has been a part of american cuisine for many years. With its warm, comforting flavors and creamy texture, it's no wonder that this dish has become a go-to for potlucks, picnics, and family dinners across the country.
But have you ever wondered about the history of corn casserole? How did it come to be such a beloved staple in the southern cooking scene? In this section, we'll explore the rich history and evolution of this timeless dish, as well as the rise of paula deen's recipe in the south.
Brief History And Evolution Of The Corn Casserole Dish
The first corn casserole recipes appeared in american cookbooks in the mid-19th century.
The dish likely originated as a way to use up leftover corn and other ingredients in a hearty, filling meal.
Corn casserole remained a popular southern dish throughout the 20th century, with many families adapting and adding their own unique twists to the recipe.
Today, corn casserole is a staple on holiday tables and potluck spreads across america.
The Rise Of Paula Deen'S Recipe In The Southern Cooking Scene
Paula deen's version of corn casserole, which features a mix of canned corn, jiffy cornbread mix, sour cream, and cheese, exploded in popularity during the 1990s.
Southern cooks quickly adopted the recipe, praising its simplicity, versatility, and addictive flavor.
Paula deen's corn casserole became a signature dish at her popular savannah restaurant, the lady & sons, further cementing its place in southern cuisine.
Frequently Asked Questions Of Paula Deen Corn Casserole
What Is Paula Deen Corn Casserole?
Paula deen corn casserole is a delicious and budget-friendly side dish recipe that contains canned corn, jiffy mix, sour cream and melted butter. It is perfect for potlucks, family dinners and holiday gatherings.
How Long Does It Take To Make Paula Deen Corn Casserole?
Preparation time for paula deen corn casserole is only 10 minutes, while baking time is about 45 minutes. In just an hour, you can have a tasty corn casserole that your whole family will enjoy.
Can I Substitute Fresh Corn For Canned Corn In Paula Deen Corn Casserole?
Yes, you can substitute fresh corn for canned corn in paula deen corn casserole. You will need approximately 3 to 4 ears of fresh corn to make this recipe. Simply cut the corn kernels from the cob and use them instead of canned corn.
Is Paula Deen Corn Casserole Gluten-Free?
No, paula deen corn casserole is not gluten-free, as it contains jiffy corn muffin mix, which is made from wheat flour. However, you can make a gluten-free version of this recipe by using a gluten-free cornbread mix instead.
Conclusion
After trying paula deen's corn casserole recipe, it's clear that this dish is a true crowd-pleaser. The combination of creamed corn, sweet corn, and cornbread mix creates a satisfying texture and a flavorful taste that will have everyone reaching for seconds.
The addition of cheddar cheese adds a nice tanginess that balances out the sweetness of the corn, making it the perfect side dish for any occasion. This recipe is easy to follow, only requiring a few simple steps and a short baking time.
Plus, with the option to customize the level of spiciness, you can easily make it your own. Overall, paula deen's corn casserole is an excellent addition to any meal, and a guaranteed hit with family and friends. Give it a try and see for yourself!