Easy cheesy taco sticks are a delicious appetizer that combines the flavors of a taco with ooey-gooey cheese in a crispy stick. These sticks are perfect for parties, game nights, or even as a snack.
Introducing easy cheesy taco sticks! If you love tacos and cheese, then you're going to love this appetizer. This recipe is super easy to make, and it won't take a lot of your time, whether you're hosting a party or simply want to enjoy a snack. You'll end up with cheesy, crispy sticks that are packed with flavor and that everybody will enjoy. Plus, with only a few simple ingredients, you can make these anytime you get a craving for something savory. In this article, we'll talk about what you need to make easy cheesy taco sticks and provide you with a step-by-step guide to prepare them.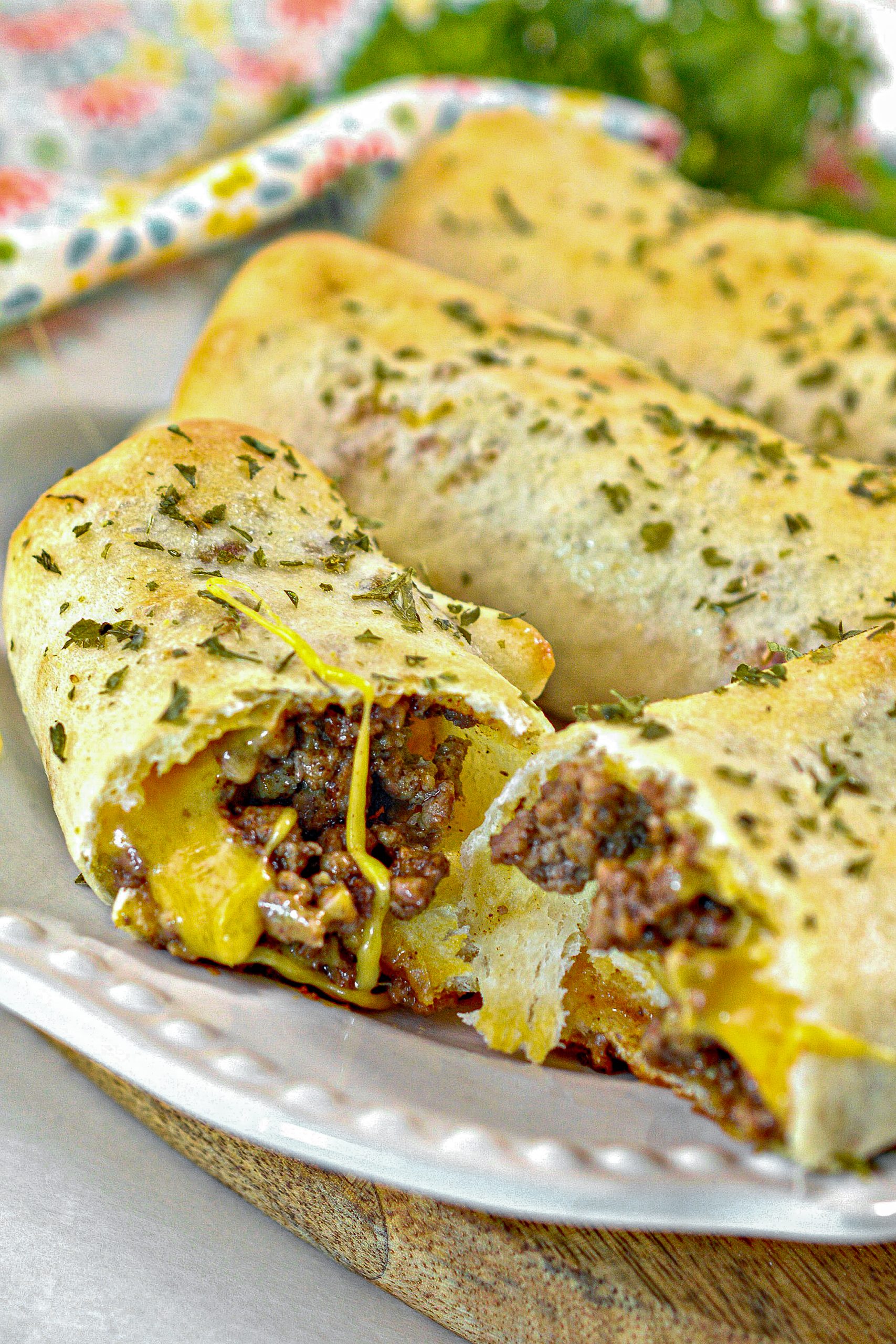 Credit: sweetpeaskitchen.com
Ingredients
There's nothing better than enjoying a delicious snack that is easy to make and perfect for sharing with your loved ones. Easy cheesy taco sticks are just what you need to satisfy those cravings. In this post, we will walk you through the essential ingredients required to make this mouth-watering snack.
List Of Ingredients Needed For The Recipe
Here's a list of ingredients that you will need to create these tasty taco sticks:
1 tube of crescent roll dough
1 pound of ground beef
1 packet of taco seasoning
1 1/2 cups shredded cheddar cheese
Sour cream and salsa, for serving
Explanation Of Each Ingredient
Crescent roll dough: this is a type of pastry dough that is buttery, flaky, and perfect for creating a crispy outer layer for the taco sticks.
Ground beef: used as the base of our recipe, it adds protein and a savory flavor that is needed to make these taco sticks tasty.
Taco seasoning: this is a mixture of mexican-inspired spices that adds depth and complexity to the recipe.
Shredded cheddar cheese: essential for achieving a gooey, cheesy texture that pleases our taste buds.
Sour cream and salsa: these two condiments add a creamy and tangy flavor, respectively, that contrasts nicely with the crispiness of the taco sticks.
Tips For Buying Ingredients
When purchasing the ingredients for your easy cheesy taco sticks, keep in mind the following tips:
For the crescent roll dough, look for a brand with high-quality ingredients and easy-to-follow instructions.
Choose a ground beef that has a good fat-to-lean ratio to prevent greasiness.
Ensure the taco seasoning you pick has all the spices you need, avoid those with high sodium content or preservatives.
For the shredded cheddar cheese, opt for one that melts well, has great flavor, fresh, and pre-shredded, or shred your own if you prefer.
When it comes to sour cream and salsa, choose your favorites, but make sure they have the desired amount of tang and creaminess that you want.
Now that you have a good understanding of the ingredients required to make these tasty easy cheesy taco sticks, it's time to gather them up and start creating your delicious snacks!
How To Make Easy Cheesy Taco Sticks
Who doesn't love a good taco? But sometimes, making them from scratch can be time-consuming and messy. That's where easy cheesy taco sticks come in! This recipe takes all the flavors of a classic taco and packages them into a convenient and delicious snack.
With just a few simple ingredients, you can whip up a batch of these savory sticks in no time.
Step-By-Step Instructions For Making The Recipe
Preheat your oven to 375°f (190°c).
Line a baking sheet with parchment paper.
In a skillet, cook ground beef over medium heat until browned and cooked through. Drain any excess fat.
Add taco seasoning and water to the skillet. Cook for an additional 2-3 minutes, stirring occasionally.
Roll out pizza dough on a lightly floured surface.
Sprinkle shredded cheese onto one half of the dough.
Spoon the ground beef mixture evenly over the cheese.
Fold the other half of the dough over the filling and press the edges to seal.
Cut the dough into sticks, about 1 inch wide.
Place the sticks on the prepared baking sheet and brush with melted butter.
Bake for 15-20 minutes, or until the dough is golden brown and cooked through.
Serve with your favorite taco toppings, such as salsa, avocado, or sour cream.
Photos To Demonstrate The Process
[Include Photos Of The Steps Above]
Tips For Getting The Perfect Result
If you're short on time, you can use premade taco seasoning instead of making your own.
Be sure to drain any excess fat from the ground beef to prevent your taco sticks from becoming greasy.
If the dough is too sticky, add a little extra flour when rolling it out.
Use a pizza cutter or sharp knife to cut the dough into sticks.
Don't be afraid to experiment with different types of cheese or toppings to customize your taco sticks to your liking.
Leftover taco sticks can be stored in an airtight container in the fridge for up to 3 days. Simply reheat in the oven or microwave before serving.
Now that you know how to make easy cheesy taco sticks, why not try them out for your next party or snack time? With their irresistible combination of cheesy, beefy, and spicy flavors, they're sure to be a hit with everyone.
Cheesy Taco Sticks: The Ultimate Game Day Snack
Variations And Substitutions
Are you tired of making the same old tacos every week? Spice things up with these easy cheesy taco sticks! Perfect for a quick dinner or a fun party dish, this recipe can be customized to fit any dietary needs or preferences.
Options For Customizing The Recipe
Switch up the cheese: try using pepper jack for an extra kick of spice or cheddar for a more classic flavor.
Mix in some veggies: add diced tomatoes, bell peppers, or even jalapeños for a fresh and colorful twist.
Serve with dipping sauces: try salsa, guacamole, or sour cream on the side for added flavor and texture.
Substitutions For Different Dietary Needs Or Preferences
Make it vegetarian: swap the ground beef for a plant-based meat alternative or use black beans as the protein source.
Go gluten-free: use corn tortillas instead of flour tortillas.
Dairy-free option: use a vegan cheese substitute instead of the traditional cheese.
Additional Suggestions For Making The Recipe Even Better
Customize the spice level: add more or less taco seasoning depending on your preference.
Experiment with different fillings: this recipe works great with shredded chicken or pulled pork as well.
Get creative with the presentation: cut the taco sticks into bite-sized pieces or serve them on a bed of lettuce for a fun and unique twist.
With these customizable options and substitutions, this recipe is sure to become a new family favorite. So why not give these easy cheesy taco sticks a try tonight?
Serving Suggestions And Pairings
Easy cheesy taco sticks are one of the most delicious snacks out there. They're cheesy, spicy, and have a crunchy exterior that makes them irresistible. If you're wondering how to make this amazing dish, you're in luck. Our recipe is simple to follow, and we can guarantee that the results will exceed your expectations.
But serving these scrumptious treats is just as important as making them. Here are some suggestions for presenting this dish and what to pair them with.
Suggestions For Serving And Presenting The Dish
Serve the taco sticks on a large plate with some chopped fresh herbs.
Add a small bowl of your favorite salsa or guacamole on the side.
To make them look even more interesting, try cutting them at different angles.
Pairing Suggestions For Drinks And Other Snacks
These taco sticks go perfectly well with beer or any flavored margarita. Why not make a pitcher of mango margarita or strawberry margarita to go with them?
Serve them with some crunchy vegetables, such as carrot or celery sticks, to balance out the spiciness.
Tips For Making The Dish More Appealing
Add colorful ingredients like red or yellow cherry tomatoes or chopped fresh cilantro to the mixture before rolling the sticks.
Use different kinds of cheeses for a more varied flavor and texture.
Add a few drops of tabasco sauce or sriracha to the filling to give it an extra kick.
Recap Of The Recipe And Its Benefits
This recipe is perfect for game day parties, potlucks, or any other gatherings.
The preparation time is under 30 minutes, and the cooking time is around 20 minutes.
These easy cheesy taco sticks are perfect for satisfying cravings while watching sports with friends or family.
Final Thoughts On Why This Is The Perfect Game Day Snack
Easy cheesy taco sticks are the perfect snack for game day because they provide a perfect combination of cheesy, crunchy, and spicy flavors, perfect for snacking while watching the game. They are easy to make and require basic ingredients that you probably already have in your kitchen.
Call To Action To Try The Recipe And Share With Others
Now that you have learned about different ways to serve and present these taco sticks as well as drink and snack pairing suggestions, try this recipe for your next party or game day gathering, and share the recipe with your friends and family! We promise they will become your new go-to snack recipe.
Frequently Asked Questions Of Easy Cheesy Taco Sticks
What Are Easy Cheesy Taco Sticks?
Easy cheesy taco sticks are a delicious snack made with breadsticks, seasoned ground beef, and melted cheese.
How To Make Easy Cheesy Taco Sticks?
To make easy cheesy taco sticks, roll out pizza dough, place seasoned ground beef and shredded cheese on top, then wrap them around breadsticks and bake in the oven for 10-12 minutes.
What Variations Can Be Made In Easy Cheesy Taco Sticks?
You can customize easy cheesy taco sticks by using different types of cheese, adding jalapenos or other veggies, and varying the seasoning in the ground beef.
Can These Be Made In Advance For A Party?
Yes, you can make easy cheesy taco sticks in advance for a party. Simply prepare them as directed and store them in an airtight container in the refrigerator until ready to bake.
Conclusion
With only 4 ingredients and minimal prep time, the easy cheesy taco sticks are an ideal choice for a quick snack or light dinner. The golden crust and flavorful, cheesy filling make them a hit with both kids and adults.
Plus, they can be customized to suit your taste preferences by adding extra spices or toppings. Whether you're hosting a party, enjoying a cozy night in, or just craving something savory, these taco sticks are a fuss-free and satisfying option.
With this recipe in your arsenal, you'll always have a tasty and effortless meal idea at your fingertips. Try them out today and see for yourself why they're a crowd favorite!