Easy burrito casserole is a mouth-watering, mexican-inspired dish that is quick and easy to prepare. This dish is a perfect blend of spicy and cheesy flavors that will excite your taste buds with every bite.
The casserole aims to replace traditional burrito, and it's a great alternative to try out if you are looking to introduce new flavors to your dinner table. The recipe calls for seasoned ground beef, mexican spices, canned beans, tortilla chips, and cheese. The ingredients are layered in a casserole dish and baked for a few minutes until the cheese is melted and bubbly. This recipe is perfect for busy weeknights when you want a flavorful meal with minimal effort.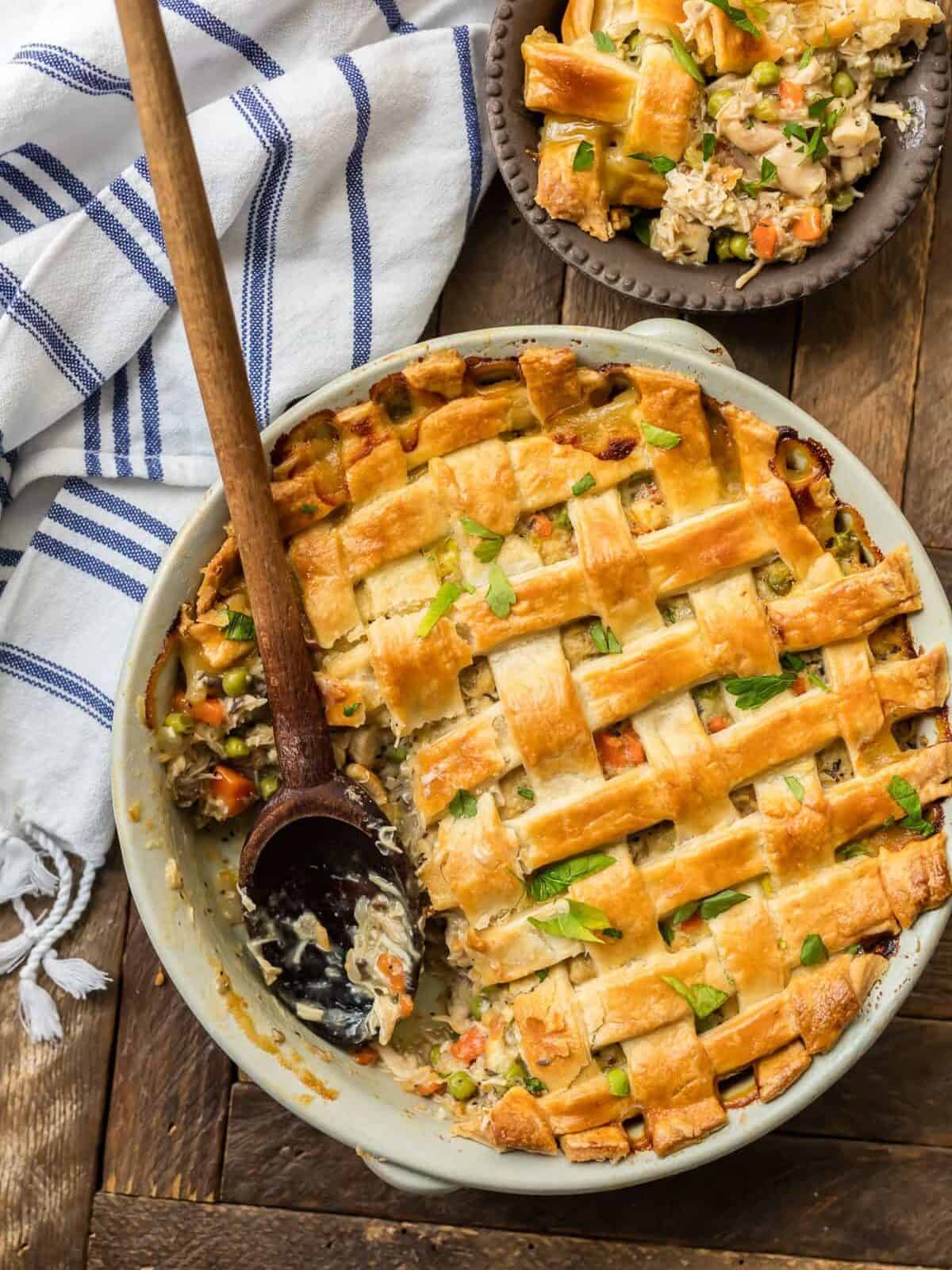 Credit: www.thecookierookie.com
Ingredients
The Essential Ingredients Needed To Make An Easy Burrito Casserole
Making an easy burrito casserole requires the right ingredients to bring out that savoring flavor.
1 pound of ground beef or turkey
1 medium-sized onion, chopped
1 medium-sized green pepper, chopped
1 packet of taco seasoning mix
1 can of tomato sauce
1 can of corn, drained
1 can of black beans, drained and rinsed
1 cup of uncooked white rice
2 cups of water
1 cup of shredded cheddar cheese
6-8 flour tortillas, cut into smaller pieces
Optional Ingredients To Make The Dish Even More Flavorful
While the essential ingredients for making an easy burrito casserole are enough to create that delicious taste, there are always ways to spice up your dish and make it even more flavorful.
1 small can of sliced black olives
1 small can of diced green chilies
1/2 cup of chopped cilantro
1 jalapeno pepper, diced and seeds removed
2 cloves of garlic, minced
1 tsp of chili powder
Additional shredded cheese for topping
High-Quality Ingredients For Maximum Flavor
Using high-quality ingredients is guaranteed to enhance the overall taste of your burrito casserole. Here are some recommendations you may consider for maximum flavor.
Choose lean ground beef or turkey for a healthier option.
Use fresh peppers and onion rather than frozen ones.
Opt for vine-ripened tomatoes or crushed tomatoes rather than canned tomato sauce.
Substitute canned corn with fresh or frozen corn for a fresh bite.
Go for organic black beans rather than regular canned beans.
Use homemade taco seasoning instead of store-bought ones for a more authentic taste.
Use freshly grated cheddar cheese instead of pre-shredded ones for better texture and flavor.
With the right ingredients, you can create a satisfying and delicious easy burrito casserole for your family and friends to enjoy.
Preparation
Preheating The Oven And Preparing The Casserole Dish
Before starting to assemble the burrito casserole, take some time to prepare the oven and casserole dish.
Preheat your oven to 375°f (190°c) around 15-20 minutes before baking the burrito casserole. This will ensure even heating throughout the baking process.
Grease a 9×13 inch baking dish using a non-stick cooking spray or butter to avoid sticking.
Tips For Efficiently Chopping Vegetables And Meat
Efficiently chopping the vegetables and meat will not only save time but also result in even distribution and better flavor.
Use a sharp knife to avoid crushing the vegetables and meat.
Cut the vegetables into small, bite-sized pieces to avoid uneven distribution.
Slice the meat against the grain to make it tender and juicy.
Guidelines For Assembling The Burrito Casserole
Now that you have preheated the oven and prepared the ingredients let's move on to assembling the burrito casserole.
Start with a layer of tortillas on the bottom of the greased casserole dish.
Add a layer of refried beans and sprinkle with shredded cheese.
Place another layer of tortillas on top of the beans and cheese.
Spread the meat and veggies over the tortillas in an even layer and sprinkle more cheese on top.
Add the final layer of tortillas and sprinkle more cheese on top.
Cover the dish with foil and bake for 25-30 minutes.
Remove foil and bake for an additional 10-15 minutes until the cheese is golden brown.
Remember to let the casserole rest for a few minutes before serving. Enjoy this delicious and easy burrito casserole with your family and friends!
Making The Chipotle Burrito Bowl At Home | But Better
Baking Instructions
Are you looking for a quick and easy dinner recipe that is also sure to impress your guests? Look no further than a delicious burrito casserole! Whether you are making it for a fiesta or just for your family, this recipe is an excellent option for anyone who is short on time but still wants to serve a delicious and hearty meal.
In this section, we will go through the key details you need to know about baking this dish to perfection.
The Ideal Oven Temperature For The Perfect Casserole
The ideal oven temperature for baking your burrito casserole is 350 degrees fahrenheit. This temperature will ensure that your casserole cooks evenly, and the cheese on top will melt to golden perfection, making it look delicious.
How Long To Bake The Dish
The amount of time you will need to cook your burrito casserole will depend on the size of your dish. Generally, a standard 9×13 inch baking dish will require about 20-30 minutes of baking time. An easy way to tell if your casserole is cooked perfectly is by inserting a knife in the center of the dish.
If the knife comes out clean, the dish is cooked; otherwise, leave it in the oven for a couple of more minutes.
How To Tell When The Casserole Is Done
Another way to tell if your burrito casserole is cooked to perfection is to look at the cheese on top. If the cheese is melted and golden brown, then the dish is done.
After you have baked it for the recommended time, gently shake the dish to see if there is any liquid left at the bottom.
Test the temperature of the dish by using a meat thermometer, ensuring it has reached 160 degrees fahrenheit.
Once your casserole is thoroughly cooked, allow it to rest for a few minutes before serving. This time will allow everything inside the dish to settle, ensuring that your servings are consistent.
So, there you have it – a simple yet delicious burrito casserole recipe that everyone is sure to love. Remember that by following these baking instructions to a tee, you are sure to get a perfectly cooked and delicious casserole every time.
Serving And Storing
If you're a fan of mexican cuisine, you'll love this easy burrito casserole recipe. It's quick to make and perfect for a delicious weeknight dinner. And like any casserole, it's designed to be served multiple times, so there's no need to prepare multiple dishes.
How To Serve The Burrito Casserole
Using a sharp knife, cut the burrito casserole into slices.
Transfer the slices to serving plates and garnish with your choice of toppings, such as diced tomatoes, olives, or sour cream.
Serve hot and enjoy the flavors of this delicious burrito casserole!
The Best Side Dishes To Accompany The Dish
Crispy green salad with a tangy vinaigrette or fresh salsa is the perfect accompaniment to this flavorful burrito casserole.
Corn on the cob, rice and beans or chips and guacamole are other popular sides to pair with this dish.
Alternatively, try serving with a side of roasted vegetables, baked potatoes, or garlic bread to make a complete meal.
Proper Storage And Reheat Instructions
Store the leftover burrito casserole in an airtight container and keep it refrigerated for up to three days.
When reheating, preheat the oven to 350°f and cover the casserole with foil to prevent it from drying out.
Bake the covered dish for 15-20 minutes until it's heated through.
Alternatively, you can reheat individual slices in the microwave for 30 seconds to one minute.
Once heated, serve as per your preference!
This easy burrito casserole can be savored over and over again and goes well with a variety of sides. Proper storage and reheating will ensure that the dish stays fresh for later consumption. So go ahead, make this dish today, and enjoy the flavors of mexican cuisine right at home!
Frequently Asked Questions For Easy Burrito Casserole
1. How Long Does It Take To Make The Easy Burrito Casserole?
It takes around 30 to 40 minutes to make the easy burrito casserole.
2. Can I Substitute The Meat In The Casserole With A Vegetarian Option?
Yes, you can substitute the meat with vegetables or beans to make it vegetarian-friendly.
3. Can I Freeze Leftovers Of The Easy Burrito Casserole?
Yes, you can freeze the leftovers of the casserole for up to 3 months.
4. Do I Need Any Special Equipment To Make The Easy Burrito Casserole?
No, you only need basic kitchen equipment like a casserole dish, stove, saucepan, and an oven to make this dish.
5. Is The Easy Burrito Casserole Spicy?
The level of spiciness in the casserole depends on the amount of chili powder used, but you can adjust it to your preference.
Conclusion
After going through this blog post on how to make an easy burrito casserole, you can see just how simple it is to whip up a tasty and satisfying mexican-inspired dish with only a few ingredients. This burrito casserole recipe can be customized to suit your taste preferences and is perfect for feeding a crowd, especially during busy weeknights or for a casual gathering.
With its delicious combination of ground beef, refried beans, rice, cheese and tortilla chips, you can transform plain ingredients into a flavorful and filling meal in no time. So, why not give this recipe a try and treat yourself and your loved ones to a delicious burrito casserole?
You won't regret it!